Triactol Bust Serum Reviews

Triactol Bust Serum is a topical serum relatively new to the market, intended to promote all-natural breast growth. Triactol, through clinical studies, claims that users will experience "noticeable lifting in just 7 days", and that 75% of women who tested the product for 21 days experienced lifted breasts - this number increased to 94% by day 42. Some Triactol Bust Serum users have also claimed to experience a growth in cup size, although there have been no studies related to these claims. The active ingredient in the serum is all-natural, and the company vows to use no parabens, petrochemicals, or artificial colors in the product. Triactol Bust Serum is available in a 1-Month Supply for $128.85 plus cost of shipping, with discounts offered when purchasing multiple-order packages.
Triactol: Effective Ingredients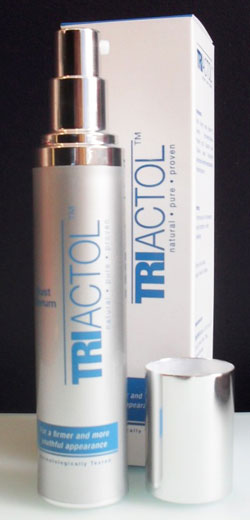 Triactol is a topical product in the form of a lightweight serum. The active ingredient, Pueraria mirifica extract, comes from the P. mirifica plant, which grows natively in Thailand and Myanmar. The extracts for Triactol Bust Serum are harvest exclusively in Thailand, where the plant is known as "White Kwao Krua." In Thailand, the plant is traditionally used topical in cosmetic applications, and taken internally for medicinal purposes and rejuvenation. The plant is rich in a variety of phytoestrogens, which brings about its claim to fame as a booster for feminine health and breast growth - However, no scientific studies have produced evidence that P. mirifica has such effects.
How to Use Triactol
The recommended dosage of this product for maximum benefits is:
Twice per day (preferably immediately after showering or bathing), squirt 2 to 3 drops of Triactol Bust Serum onto the palm of your hand, and massage onto your chest in circular motions, until the product has completely been absorbed by the breasts.
The makers of Triactol Bust Serum claim that users will begin to see lifting of breasts in just 7 days, with maximum results of lifting and breast enhancement (which may include breast growth) attained in about 21 days. It is also important to note that, as an all-natural topical solution for breast sagging, the ingredients of Triactol Bust Serum will provide the best results when the serum is used consistently, for long periods of time.
Does Triactol Bust Serum Really Work?
Triactol contains an active ingredient, White Kwao Krua purified extract, which is known to be a rich source of several phytoestrogens. While the activity of this product on the breasts can promote basic firming and smoothing of skin, there is no study to date that proves the effectiveness of Kwao Krua plant on breast lifting or breast growth. Triactol Bust Serum may be an all-natural, non-invasive method of topically enhancing your bosom, but there is no evidentiary support to suggest that it will work in a consistent way for all types of women.
How Does Triactol Compare?
We've reviewed the top 20 breast enlargement products. See our research summarized here or learn more about our Editor's Choice for best breast enhancement system.