Revitabust Breast Enhancement Supplement Reviews

Revitabust is an all-natural oral supplement, developed and marketed by Cosmeceutical Technologies, formulated for breast enhancement as a low-risk alternative to invasive surgical and cosmetic procedures. The official website of Revitabust claims that this breast-enhancing supplement will bring results within 8 weeks of daily usage. There are also other testimonials which claim the users' bust sizes have grown up to three sizes larger in a matter of only 4 weeks, which would make it among one of the fastest-working products if this claim is true – However, no evidence has yet been provided to substantiate this claim. A 1-month supply of Revitabust is available for $59.95 without shipping included, and discounts are offered on their website for bulk purchases.
Revitabust: Effective Ingredients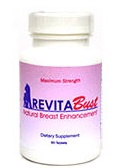 Revitabust, like many other available breast enhancement supplements, relies on all-natural herbal ingredients to help induce breast growth. Revitabust is formulated with well-known plant sources of estrogen (Known as phytoestrogens, which weakly mimic estrogen activity in the body without the risk of synthetic xenoestrogens). These phytoestrogenic plants include: P. mirifica, Damiana leaf, and Fenugreek. Revitabust also includes Pacific kelp and vitamin E, which can help to nourish the breast tissue as it grows over time, which is important in the prevention of stretch marks and glandular stress.
How to Use Revitabust
The recommended dosage of this product (oral supplements) for maximum benefits is:
Two times per day take Revitabust with at least 8oz. of water, to let the pills' contents become properly absorbed. Take with food in order to promote effectiveness and prevent any feeling of nausea. The supplement should be taken for at least 4 weeks, while most users who gain benefits report seeing the results in 8 weeks or so. The Revitabust website strongly pushes for customers to purchase a 12-week supply in order to see maximum results.
Does Revitabust Really Work?
Revitabust, as an all-natural herbal supplement for feminine enhancement that is noncarcinogenic and noninvasive, has its benefits in that it can provide gradual breast enhancement and cup growth. However, Revitabust is unusual among herbal alternatives to breast hypomastia, in that some users have reported side effects taking the pill. Customers have reported breast tenderness and swelling, and some have also reported heavier menstrual bleeding – sometimes experiencing both side effects without the beneficial results claimed by using Revitabust. These side effects are probably due to Revitabust's unusual formula, which contains a variety of estrogenic plants, along with nonestrogenic herbs which have been known to be helpful to those who are perimenopausal. This pill could raise estrogen too much in women, so if you have a family history of feminine health problems, blood clots, or cancer in women, other herbal alternatives for breast enhancement and growth are available with fewer side effects and greater results.
How Does Revitabust Compare?
We've reviewed the top 20 breast enlargement products. See our research summarized here or learn more about our Editor's Choice for best breast enhancement system.