Total Curve Natural Breast Enhancement Reviews

Total Curve is a combination therapy of topical and supplemental formulas, intended to promote all-natural breast growth. These products claim to safely increase overall breast volume, as well as increase breast size by up to 8.4% in 60-day trials. Total Curve also claims to improve menopausal/PMS symptoms, low sex drive, dryness of the vagina; the gel additionally is purported to promote lifting and firming for sagging breasts. Total Curve exclusively uses all-natural active ingredients, formulated to synergistically induce breast growth, as well as provide benefits to overall feminine health. A One Month Supply of the kit (supplement + gel) is $59.95 before shipping, with discounts offered for bulk purchases.
Total Curve: Effective Ingredients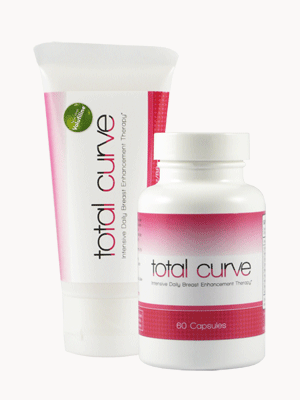 Total Curve is a two-part system. The first part, the Total Curve Daily Supplement, is formulated with a blend of phytoestrogens, which are weak estrogens that mimic estrogen activity in the body. The supplement also contains antioxidant herbs and nutrients, such as black cohosh and wild yam, which can balance hormones, reduce menopausal and PMS symptoms, and promote overall feminine health. The second part, the Total Curve Lifting & Firming Gel, is formulated with the trademarked ingredient Volufiline, which contains sarsasapogenin: A compound that stimulates lipogenesis, or growth of fat cells. Total Curve's Lifting & Firming Gel is produced with 3% Volufiline. Total Curve Lifting & Firming Gel is infused with ingredients such as Vitamin C, caffeine, and algae, to provide healing and moisturizing to the breast skin during the growth process.
How to Use Total Curve
The recommended dosages of these products for maximum benefits are:
1 Total Curve Daily Supplement capsule, taken twice per day, before or after meals. The supplement come in 30-day bottles, but it is recommended to take the supplement for at least 60 to 90 days, in order to obtain the most noticeable results.


Apply a thin layer of Total Curve Lifting & Firming Gel to each breast two times per day. Massage the gel gently onto the breasts until it has been fully absorbed Do not put on bras or other clothing articles which cover the breasts until the gel has fully absorbed, and the breasts feel dry, but not tacky, to the touch.
Total Curve Results: Our Evaluation
The active ingredients in Total Curve are natural, herbal compounds, which are generally not known to pose any health threats, making them a safer alternative to more invasive fillers and surgeries. However, the effectiveness of phytoestrogens to treat problems with breast tone and size varies greatly from one female to another, and can not be considered a reliable answer for significant breast growth and toning . Results from herbal supplements and topical treatments like Total Curve Daily Supplement and Lifting & Firming Gel are typically gradual and subtle, and do not provide the dramatic results expected with synthesized formulations or invasive procedures - But for those who are seeking a gentle way to potentially gain results using a natural method, the Total Curve system can be an affordable option.
How Does Total Curve Compare?
We've reviewed the top 20 breast enlargement products. See our research summarized here or learn more about our Editor's Choice for best breast enhancement system.